This weekend,
actually on Labor Day,
I finally got caught up on all my blog reading
And did a little exploring of new blogs..
and ran across Sarah's blog, A Total Basset Case
Genius name and adorable pooch!
She's participating in Blogtember
I've been really reaching thinking of new posts
so I am loving the timing of this!
Frist up:
Describe where you came from.
I grew up in Waukon, IA,
where you are greeted by this lovely man and bull upon entering
I could talk about the charm of town,
or where it is located,
or my favorite places to visit.
Instead, I'm going to take a different route.
The people of Waukon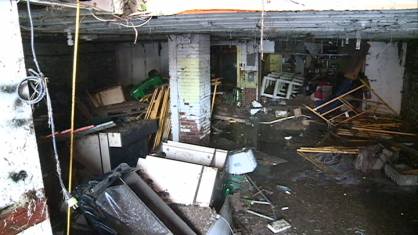 This
photo
shows the inside of the basement of my dad's business
somehow this became one of the infamous photos
Early this summer there was a random "flood"
There are not any rivers or streams nearby.
Nor is it a flood area.
But there was too much rain
in too short of time
and no where for it to go.
In just a few hours
several businesses and homeowners
were experiencing devastating losses.
Instead of collapsing with their faces in their hands
or chatting with neighbors on how horrible it all was,
People came out in droves
with buckets and Wellies
and for several days
they scrubbed and scraped
and lifted and dumped.
organizations and other businesses provided meals
for a least a good week
volunteers came from nearby areas
Amish even came to help.
Truly a community that comes together
and gradually,
months later,
my little hometown
is on the homestretch of it's recovery.
After living there most of my life,
I've recently learned
it's the people that make my hometown
what it is.