Hey guys!
It's the last day of the weekend.
So kick back and enjoy this Sunday Social!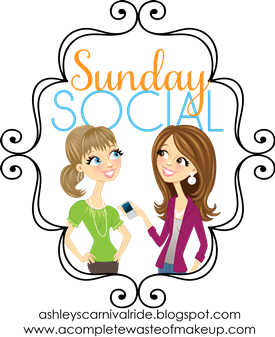 This weeks questions were all Halloween themed,
so fun!
If you missed out on last week's Sunday Social,
1. What was your favorite Halloween costume as a kid?
Little Red Riding hood. I wasn't nearly as cute as this girl, but I so had the little basket. This was way before Amanda Seyfried was in a dramatic movie about her. Now I think the red cape is more famous with the Twilight Series..
2. If you could go back to your childhood and dress up as something, what would it be?
Luckily I have some pretty laid back parents that let me be anything for halloween that I wanted to be. Like a cow. Or a bag of M&M's. Says a lot about how I like to stay away from being overly traditional.. No witch or princess for this girl!
So to answer the question, I don't think I would dress up as anything else!
3. What was your favorite Halloween costume as an adult?
I'm a weirdo that hasn't done Halloween costumes past the 6th grade.
But if I were to dress up, this costume gets my vote:
4. What is your favorite Halloween candy?
Since M&M's are my all time favorite candy, the fun sized version is my favorite halloween candy!
5. What is your favorite Halloween memory?
Trick-or-treating in the snow. Gotta love the midwest!
6. What is your favorite scary movie?
I am not a fan of scary movies. There. I said it. But I have to admit, the movie Ernest Scared stupid has to be one of my favorites. My younger cousins would rent it all the time and never make it though the entire movie. Still don't know if they ever did...?? I haven't seen it in forever, but it goes down in my book as one of my favorites!
via
What are some of your favorite halloween memories?